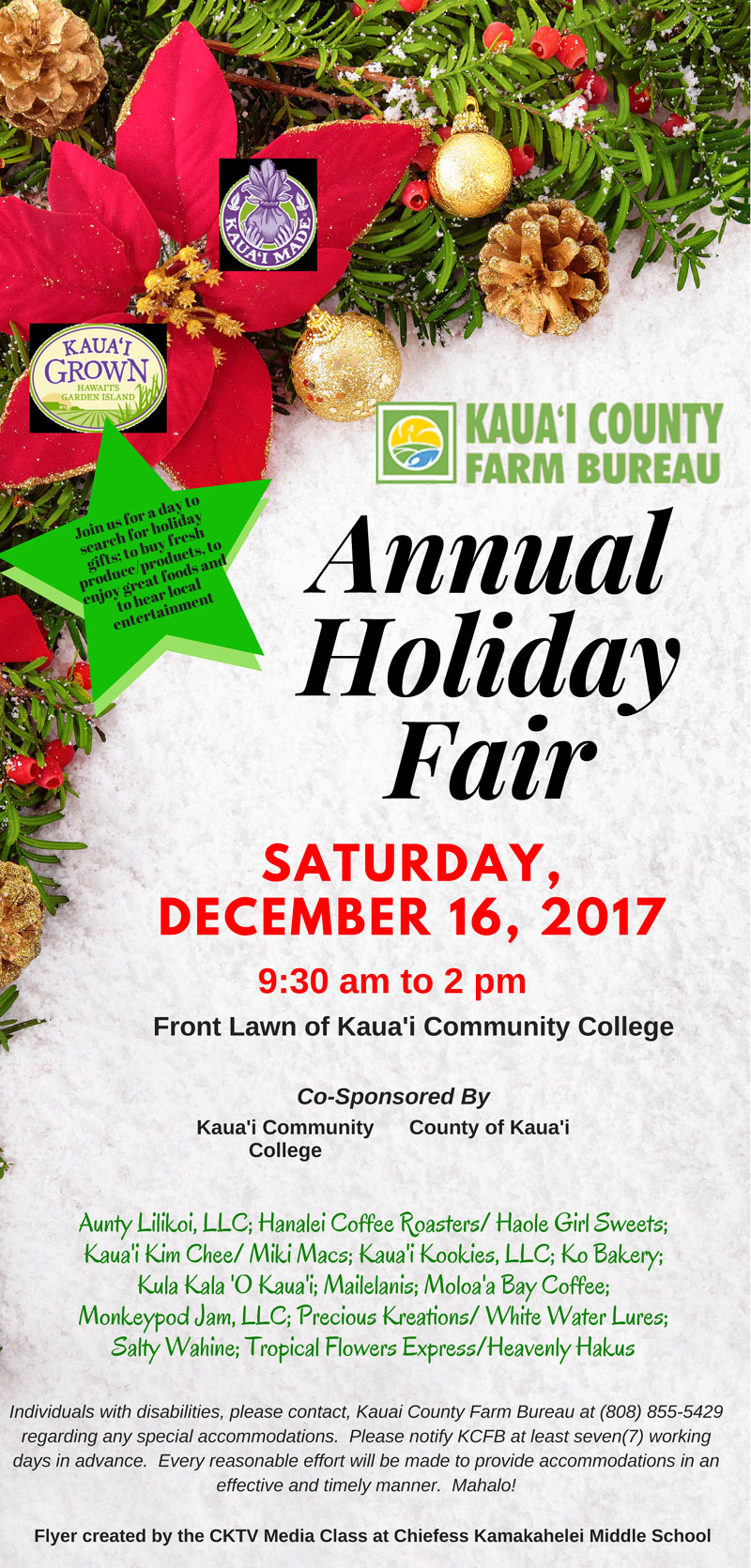 Kauai County Farm Bureau, Kauai Community College and County Of Kauai present
A Joint Kauai Grown and Kauai Made Holiday Celebration!

Saturday, December 16, 2017 - 9:30am-2pm
on the lawn at Kauai Community College
You are cordially invited to a joint Holiday Fair featuring Kauai Made and Kauai Grown products. Join weekly Kauai Community Market vendors together with expanded food choices for this annual celebration of local eating, merry making and gift giving all on the front lawn of Kauai Community College!
A wide variety of local products will be featured:
Kauai Grown produce fresh from the farm
Kauai Made and Kauai Grown foods for gift giving and celebrating... coffee, honey, cheeses, jams, dips, spreads, spices, dressings…and more
Kauai Grown tropical flowers, plants and Kauai Made crafts for home décor or hospitality gifts
Carefully crafted and unique Kauai Made gifts... jewelry, clothing, photography, and more!
Ono local foods, samples and holiday treats to enjoy for breakfast or lunch
Event publicity this year will include a holiday build up campaign on radio, TV and newspaper focusing on BUYING LOCAL THIS HOLIDAY SEASON! Plus eblasts to circulate to your clients!
Please note: Crafts and gift products must be a member of the Kauai Made program.
We look forward to welcoming you there! For questions,
please call or 808-855-5429 or
email
info@kauaigrown.org
info@kauaicountyfarmbureau.org